Sarah Wallace
OWNER and STOTT PILATES Instructor
Sarah Wallace is the owner and instructor of Rouge Hill Pilates, opened in 2014 in the east side of Toronto in the lovely neighborhood of Rouge Hill. Sarah has taught Pilates for 18 years and is a certified STOTT PILATES Instructor. STOTT PILATES is the most renowned Pilates training method in Canada integrating traditional exercises with science and rehabilitation to make safe and effective training.

A teacher with a unique Pilates experience
Using her education in science, anatomy, rehabilitation and visual arts, her experience as a competitive amateur athlete, every client gets an extra ordinary Pilates classes. Sarah has helped restore optimal performance of mind and body to hundreds of clients. Please read their testimonials on this website.
Sarah continues to work in fitness centers and a physiotherapy clinic adding to her experience in universities, private clubs and community centers. She is comfortable with all ages and abilities. Sarah is fully insured, first aid ready and Rouge Hill Pilates is a licensed business.
An enthusiastic learner and teacher all her life, Sarah emits optimism!
As a triple gold medalist figure skater in Canada, Sarah was herself trained in high levels of strength conditioning, balance, coordination, choreography, dance, ballet, injury prevention and nutritional counselling. After coaching recreational figure and power skating for 10 years, Sarah discovered Pilates. When it solved her repetitive strain injuries, it was a natural choice to study and become a certified Instructor. Sarah maintains her STOTT PILATES continuing education requirements by attending education in posture, breathing, fascia and motor control.
It is unique to find her education, experience and commitment to health in one instructor.
Sarah studied painting and architecture in Paris, France in 1990 and received a Bachelor of Fine Arts degree with an honours in Painting. Sarah has been exhibiting and providing custom portraits for 20 years. Her talent to observe and identify details in drawings, is in every assessment she makes with Pilates clients. Sarah's ability to observe movements and identify postural details with her clients is integral to good results and rare in the fitness industry.
By instructing clients on functional movement habits and body awareness. they gain conscious control of all movements, and effects are sustainable. Clients are given the knowledge they need to live healthy pain-free lives.
Sarah is also certified in Yin Yoga as a CanFit Pro's MindBody Specialist and has taught Yin Yoga for over 10 years. It is a special compliment to Pilates with it's attention to deep stretch and relaxation of the mind and body. Sarah's 20 years of meditation training and practice are effortlessly incorporated in all her yin yoga sessions and clients love the confidence of an instructor who can monitor safe positions at the same time as providing a class that restores optimal energy flow in our bodies.
Recently Sarah gained her Level 2 Hypopressive Canada/Low Pressure Fitness certification enabling her clients to strengthen the diaphragm, improve posture and abdominal tone without the intensity of normal movement exercises. It is the only gentle way to relax and release your diaphragm for truly efficient breathing.
Sarah is highly certified
with 20 years of learning and teaching experience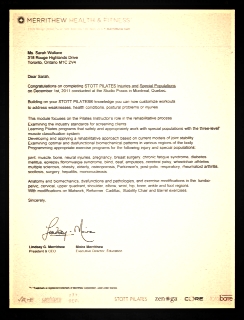 if you can't explain it simply...
you don't know it well enough
ALBERT EINSTEIN